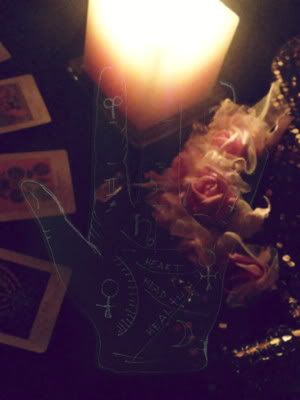 I have a packet of tarot cards that, every once and a while, I like to pull out and play with. I've only ever read for myself, and one poor little girl on a train when I was fifteen: my brother had outright refused, so I became friends with the girl beside us, and offered to do her cards, reading out the definitons for her as they were written in the little book that came with my pack. They struck something in her, I think - all I remember now is her wide eyes and "Wow!" which impressed me very much back then, and makes me cringe in embarrassment of my ego, now.
I tried repeating the experience with friends, but I wasn't very good - I had a close friend who had a much better instinct for stringing the meanings together and making them sound uncanny, so that and the sinking realization that we were only interpreting what we wanted to hear, ended that particular parlor trick.
We have an aunt who married into the family - she's lovely. She used to tell us stories about the circus she grew up with, back in the seventies, and when I showed her my cards she told me about an old woman who traveled with them who's cold readings were just as uncanny as her proper ones. She (our aunt) tried to teach me some of the tricks she'd learnt in turn, but I barely remember them now.
My grandfather doesn't believe in anything like the cards, naturally; my brother doesn't want to hear it. I don't think I'll ever really pan them out for others, but they're fun to arrange and take pictures of, even if it ends up dark and blurry. :P I'm not a fortune-telling gypsy by any means, nor think I am one, but I like the idea of having them sit by my bed.
I don't know if I believe in them. I think people see what they want in them - I know I do. Every card I deal out for myself says things like, opportunities ignored, the tower's crashing down around you, you need a new adventure. Nothing I haven't thought of before, but at the very least, they are a good way to prompt an old-fashioned soul searching.